Great News, Final Closure
UKOG gives up Surrey Hills oil exploration licence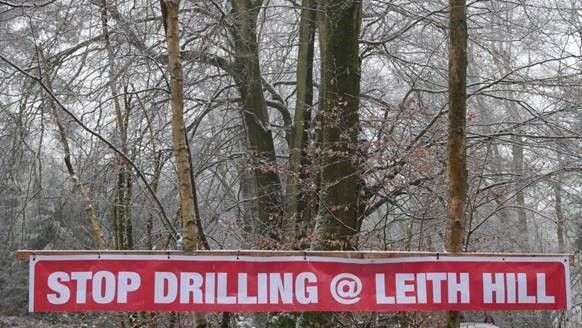 Campaign against oil drilling at Bury Hill Wood near Leith Hill. Photo: Jon O'Houston
UK Oil & Gas plc announced this morning it has relinquished an oil exploration licence near Dorking in Surrey, which included a controversial site near the Leith Hill beauty spot.
The news comes just over two years after clearance of the Leith Hill site, which had planning permission and an environmental permit. But it was never drilled because the lease on Forestry Commission land expired.
Much of the licence, also known as Holmwood, and more recently A24, was in the Surrey Hills Area of Outstanding Natural Beauty (AONB).
Last year UK Oil & Gas (UKOG) said it was "making good progress" in finding alternative drilling locations. It said the new sites were outside the AONB.
But in the statement this morning, UKOG said:
"A detailed study examining the viability of drilling the A24 (formerly Holmwood) Portland prospect's centre from selected sites outside the Surrey Hills Area of Outstanding Natural Beauty, each over 3 km from the target, concludes that the required long-reach/shallow target-depth wells are neither technically viable or economically feasible.
"Consequently, UKOG and its partners have now relinquished their interests in the licence."
UK Oil & Gas (UKOG) took over operation of the licence, PEDL143, from Europa in March 2019 and held a 67.5% interest.
The UKOG statement added:
"It remains a great disappointment to the company that the licence's former operator, Europa Oil and Gas, whilst in possession of planning consent, failed to drill the prospect from the Holmwood site, around 1 km from the target."
The other main partners in the licence were Egdon Resources plc (18.4%) and Angus Energy (12.5%).
Egdon's managing director, Mark Abbott, said:
"The relinquishment is supported by Egdon, as a technically and commercially viable site to drill the A24 Prospect (formerly Holmwood) couldn't be identified. It enables Egdon to focus its resources on the core near-term priorities; namely, moving to production at Wressle during this quarter, progressing drilling options at Biscathorpe and North Kelsey, and acquiring a marine 3D seismic survey over the Resolution and Endeavour gas discoveries during the coming period."
Angus Energy's managing director, George Lucan, said:
"We support the decision to relinquish this interest which will better enable us to focus our efforts and resources on our principal assets at Balcombe, where we await the planning decision before year end and Saltfleetby where pipeline installation is underway."
Today's announcement finally brings to an end a 12 year long local campaign to prevent oil drilling in the Surrey Hills.
The Leith Hill site, also known as Bury Hill Wood, was considered at two public inquiries and two court cases. The site was also the subject of a High Court injunction and was occupied by protesters until an eviction in June 2017.
Even though it had planning permission and an environmental permit, the site was finally abandoned when the then environment secretary, Michael Gove, decided not to renew the lease.
All details can be found in this web-site
10:10, 16 Oct 2020 by Stuart McLachlan